I am always curious about a foreigner's perception of India. Where did they go, what did they eat? Did they see the colours and sights? Did they see the chaos and dirt? One or the other or both? Do they know how different it is from my city? I worry they may not look back fondly on their holiday, and I am angry if they exoticize the country of my birth – the one which suffocates and sets me free in turns.
The tall white man and I are both waiting for our pizzas, and when he agrees to answer my question, I do not expect the response I received. "The most interesting thing I did," he starts, in the singsong way that is at once a question and statement, "is going to India for my friend's wedding." And suddenly, I am more invested in his story than I should be. I offer him one more question. "Where in India?"
Pathankot. "It is a small town in the northern part of the country," he tells me. "Close to the Himalayas. We went on a trek too."
"I haven't been there."
"The wedding was so colourful!" he says now. "And long. Three days, can you believe it? One ceremony went on for ten hours."
Oh..
"The groom arrived on a horse!" he continues after a moment's pause, collecting more interesting details to give me. "I tried eating goat curry – that's something I've never had before."
He slows down. "People came and went however they wished. The entire village I think. It looked like only the couple stayed for the entire wedding."
I want to tell him for all the differences among her people this country may bear witness to, this wedding is almost generic. All the food, the people nobody seems to know, the congratulating and the smiling that go on for hours. I can sense myself getting into one of my moods, ready to launch lectures on unsuspecting individuals – about our collective obsession with the wedding as the focal point of one's life, about inequalities, and our pan-Indian preoccupation with the white skin. Which is when he adds, "I don't think they had seen a white person up close before."
Our pizzas are ready. We say goodbye before I have a chance to overwhelm him. Did they treat him like a white demigod? Did they rush to pull out chairs for him and give him second helpings? Did they look at his blue eyes? Did he fall sick from the food? Did his trip change him?
But what I really want to know is, would he go back, even though it shouldn't matter.
---

I was at a creative nonfiction writing workshop this past weekend, and one of our activities was to go up to a stranger during lunch break and ask them what was the most interesting thing they did in their life. This is what I wrote in twenty minutes after my conversation. While I can see all the ways in which this piece could be better, I think both talking to a stranger and writing about it helped me with my confidence.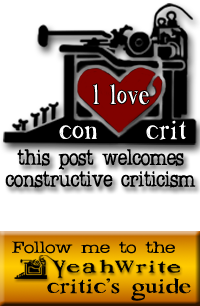 ---
Top three on the nonfiction grid this week!