That summer afternoon, I persuade The Lucky One to take a walk with me, after ignoring his protests that centered on trivial concerns such as the temperature and relative humidity. Immune to the heat and the thing I see in his eyes, which looked like suspicious sharp objects he wanted to fling at me, I find I am in a chatty mood. I decide to tell him the story of my near death from many summers ago.
It was a legendary Chicago snowstorm, I begin. A white world with no vehicle and no human being in sight. After a bit of foolishness that involved wanting to go see an apartment, and tuning out the weather forecast, I found myself to be the only one left in a sea of snow. The resourcefulness was soon replaced by a helplessness and I started to cry.
"And then?"
I give a dramatic pause here, to sustain the interest of my audience. Continuing:
When I tried to cry, the tears froze on my eyelashes. I tried again, and my eyes froze shut.
He knows to make sympathetic noises. He also knows not to warn me about being careful, about staying warm, about Windy City dangers.
The finish was anticlimactic, I tell him. My friend picked me up about thirty minutes later.
The Lucky One takes my hand in his. There isn't much to say, so we walk on in silence, past dilapidated buildings and unloved furniture on sidewalks. The moment seems precious, and as though we want to preserve it for later, we go quiet. We record in our minds the smells, the sounds, the particular bent of evening light as it is refracted by the river we walk along. The water carries our secrets. It sees who we are, and who we pretend to be to each other. It allows us our petty indiscretions, and doesn't mock us as we engage ourselves in a frantic search for true meaning in everything we undertake.
We return home, since the sweat threatens to trickle from his neck all the way down his back, and start cooking. In the midst of chopping carrots into cubes of the same size, because I like them that way, and trying not to get annoyed by how I keep cleaning the counter, he tells me: That isn't dying, that is what we call living.
We will fold away this moment and place it in a box of our memories, we will unpack it when we want to remember how we used to be. Years later, I will recall this day, and I will talk about it to others, the details morphing every time. I will speak of a time when we were young and free, swimming in narcissism and ideology, captivated by the idea of what we thought to be romantic love, fuelled by an optimism that was lost later.
---

Top three on the fiction|poetry grid this week. Thank you for the votes!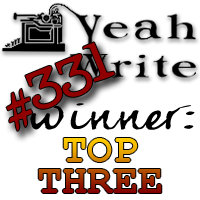 P.S. There used to be a time when a Top Three finish would have been the high point of my week. Now, I am disappointed I didn't get an Editor's Pick. I think this is a good sign though, I kept this blog going so my writing improves. Hopefully, I don't sound too immodest while I'm at it.